Breakfast
CAPTAIN GRANT'S serves the best breakfast in all the region. Even King George the 2nd would have been honored to indulge at the table of Captain Grant's. The following are some of our typical meals for the four seasons. Remember these are typical but we may serve an alternative just as equally delicious. We serve an all you-can-eat family style breakfast. You may not want to eat lunch. We can produce a different breakfast every day for up to at least two weeks. Just imagine! Let your senses take over.
On Warm Mornings, breakfast is served on the outdoor deck. In cold Winter Months a roaring fire is set in the dining room for Breakfast!
Spring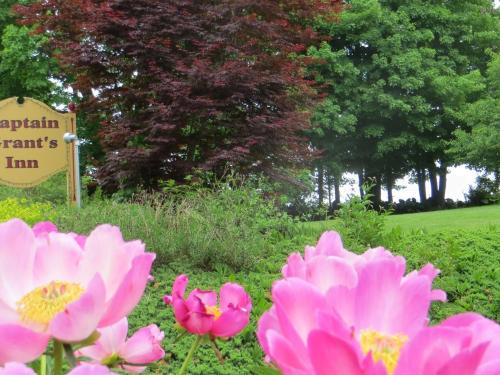 Set out early are coffee, tea and hot cocoa. The breakfast meal starts with fresh fruit consisting of bananas, apples, kiwis, red and green grapes, pears and perhaps a garnishment of maraschino cherries. Orange and pineapple juice often accompany a Spring breakfast. Following is a course of crisp bacon, cheddar cheese eggs, American fries or Berta fries and a variety of toasts or grilled English muffins. Two homemade jams will also be available to savor. This breakfast is typically served on Saturday morning.
Summer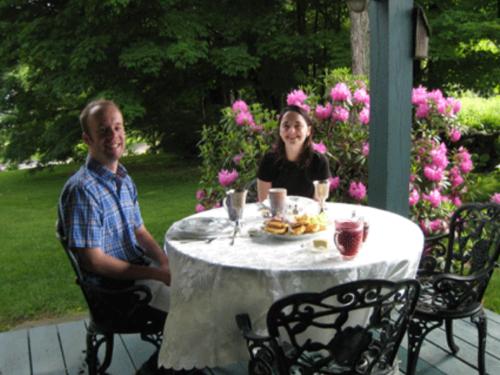 In the Summer, breakfast is served on the open air porch. After the early coffee, tea and hot cocoa set up, breakfast is served. Our typical summer juices include orange and grapefruit but we may serve banana strawberry juice. Fruit consists of a variety of melons, grapes, bananas, and kiwis.
On Sunday we often serve fresh baked ham, cream cheese eggs (to die for) and pancakes. Our pancakes have a bit of corn meal in them making the recipe sought after by our guests. For a topping on the pancakes you may choose between Maple syrup or homemade Rhubarb compote. Indulge and have both.
Autumn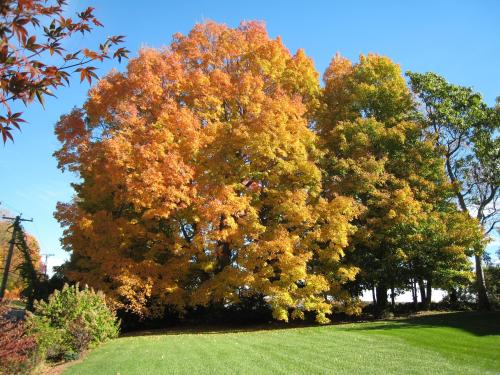 In the fall the harvest comes in. Fresh apple cream – a delectable fresh fruit beverage - is served with fresh fruit, which consists of apples, kiwis, muskmelon, peaches, pears and grapes. Perhaps a wonderful homemade bread will be served with the fruit. On Sunday hot sausage, crispy French toast with homemade blueberry maple syrup and a wonderful egg recipe made with mustard and Swiss cheese may accompany your meal.
Winter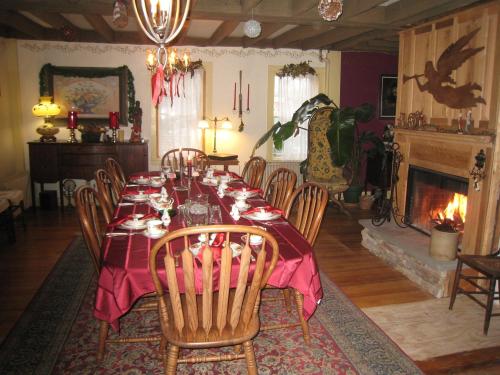 When the temperature drops the dining room fireplace is lit and a roaring fire awaits you at the table. Breakfast starts as usual but instead of fresh fruit you may have peaches in whiskey sauce or pears in brandy. Scrumptious!! For a beverage, you may have vegetable and orange juice and probably fresh local apple cider. Two of our most popular winter breakfasts are: Fresh baked ham, French toast stuffed with cream cheese and a variety of sweet fruits. Cream cheese eggs also accompany this meal. Our last on this page and one of our favorites: Homemade corned beef hash. Mmmm. Berta fries, grilled English muffins or bagels, homemade jams and jellies and cheese upon cheese eggs.